Welcome to the academic world of Prof. Maya Trotz in the Department of Civil and Environmental Engineering at the University of South Florida located in sunny Tampa.
ANNOUNCEMENTS
complete this online course on the conduct of research. Click here.
complete lab safety training. Click here.
Spring 2011 Office Hours: KOPP 220 on Tuesdays & Thursdays from 2-4 pm or by appointment. Teaching Schedule, click here.
Spring 2011 Research Group Meeting: ENC 3006 (Bring your own lunch)
Upcoming Seminars for Spring 2011
EWRE Lecture series. NES 103, 11:45 am.
ERIC Lecture Series

February 4th at 2:00 p.m. Dr. David Dzombak, the AEESP Distinguished lecturer will be speaking in the Marshall Center on use of reclaimed water in energy production.
USF EPA P3 (People, Prosperity, Planet) 2009 Phase II WINNERS!!!
The U.S. Environmental Protection Agency (EPA) hosteded the National Sustainable Design Expo on the National Mall in Washington, D.C. Teams from around the country compete for Phase II funding on their projects. This P3 Award was judged by an American Association for the Advancement of Science (AAAS) panel with final decisions by the EPA. The award included funding of $75,000. Our team received one of the six awards selected from over 40 teams from around the country. To get more information, visit: www.epa.gov/P3.
Goinggreentampabay.com was a success. First place poster winners in both the undergraduate (picture below) and graduate category were students of Dr. Trotz. The winners received $500. The undergraduate students were juniors and seniors enrolled in Dr. Trotz's Environmental Engineering Laboratory class and opted to work on a final project entitled "Bottled Versus Tap: Think About It" which involved water quality sampling and analysis and taste surveys around the College of Engineering at USF.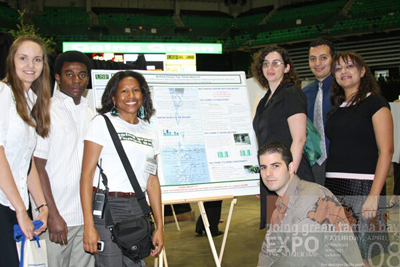 Daniel Rodriguez, Kimberley Tillman, Yuliya Lukyanets, Moheb Heinen, Mesther Eliassaint, Heba Nasralla