The numerical methods online open courseware funded by National Science Foundation and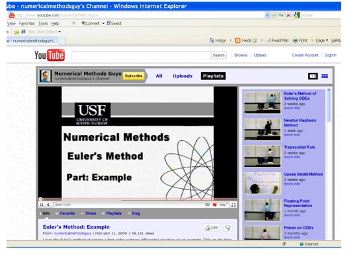 developed at University of South Florida with contributions from Old Dominion University and Florida A&M University crossed the benchmark of one million page views per year in 2010.
The online resources are available for a comprehensive course in Numerical Methods that consists of the following modules:
1) Introduction to Scientific Computing, 2) Differentiation, 3) Nonlinear Equations, 4) Simultaneous Linear Equations, 5) Interpolation, 6) Regression, 7) Integration, 8) Ordinary Differential Equations, and 9) Fast Fourier Transforms.
If you conduct a web search for "numerical methods", you will find that the courseware is ranked #2 on Google, #4 on Yahoo, and #4 on Bing. In 2010, there were
The courseware has won the 2004 ASME Curriculum Innovation Award and 2006 ASEE DELOS Best Paper Award.
---